One of the highest specification boots in the Europe, the Titanium boots really are as tough as their name suggests. The high leg design and a thermo plastic internal heel counter provide extra support and comfort for your ankle, with extra padding and a a kick off protector to ensure the wearer's safety. The Titanium feature R-Ten Abrasion Resistant Thread which increases the sewing threads resistance against limestone, oils and Alkalis, as well as providing enhanced abrasion resistance properties.
The FORCE10 Advanced Durability Scuff Cap provides incredible abrasion resistance properties, and is cemented to the upper of the boot. The other stand out feature is the FORCE10 GR100 Nitrile Rubber Outsole which gives amongst the highest durability of any outsole on the market and is heat resistant against temperatures up to 300°C. The Titanium is also HI certified to 250°C which is a great test method for checking whether the boots will perform in asphalt.
Protection is provided by an anti-penetration composite midsole and composite toecap. Finally, these boots feature a fully waterproof and breathable membrane to keep your feet at the correct temperature, and getting these boots on and off is simple due to a mud guard YKK 8′ zip, specifically designed for use on the most heavy duty safety boots.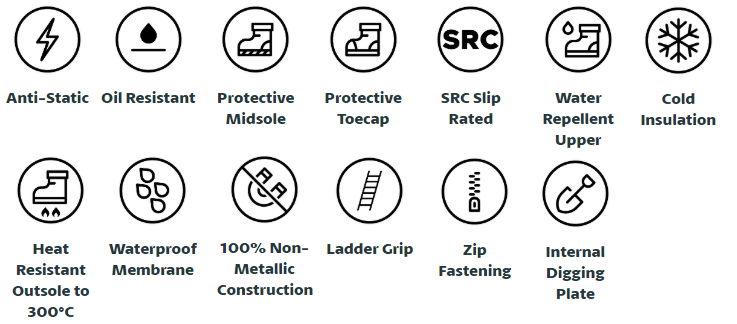 Rockfall Titanium
Brand: Rockfall
Product Code: Rockfall Titanium
Availability: 25
Related Products